Generac Generators





The Generac company has been producing quality generators and small engines in Wisconsin for over 40 years. Generac was firmly establisned in the business when (in 1961) it became the sole supplier of small generators to Sears for the Craftsman brand. Through the years Generac has established a reputation for providing access to the highest quality electric power generation equipment available. Here you will find commercial and home standby generators, backup generators, home portable generators, camping generators, RV generators, marine generators and light commercial generators.


Product Line Description
The Generac corporation markets gensets under two main trade names: 1) Generac; which offers larger generator sets for light to medium commercial, modular and commercial standby power systems , and 2) Guardian; which offers portable home generators, RV generators, and home standby generators. Here we will discuss only the Generac brand name (Guardian is reviewed on a seperate brand page) .

Under the Generac brand name there are four distinct product groupings: Standby Power Systems, Modular Power Systems (MPS) , QT Series Commercial Power Systems, and Residential / Light Commercial Power Systems. Each of these supplies a line of generators to meet the needs of each specific customer set. In addition Generac offers a set of specialty products that augment these product lines, these products include: Bi-fuel power systems, automatic transfer switches, remote monitoring systems, generator controls, and power solutions for telecommunications outside-plant facilities.
Standby Power Systems
Standby Power Systems, sometimes called backup generators, are single unit generator installations that are perminately installed outside a commercial building and are generally powered by either diesel fuel or natural gas. These units are designed to provide all (or partial) electric power to a small to medium sized business facility when the utility power fails. Generac standby power systems are available in several sizes and options ranging in output from 8 kW to 750 kW.

Generac selects engine designs from around the world that are specifically suited to electrical power generation and modifies them to Generac specifications. Generac modifications for each engine include; Generac-designed fuel delivery, cooling, and exhaust systems. Depending upon the specific size, 98% of Generac alternators feature internally manufactured rotors and stators. As an added measure of safety and customer confidence, most Generac products are Listed by Underwriters Laboratories (UL).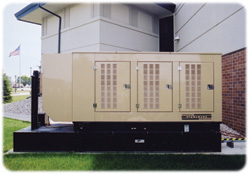 Generac standby generator



Modular Power Systems (MPS)
For higher kilowatt requirements Generac offers a solution set called the Modular Power System (MPS). This solution consists of the ability to install a group of medium-sized gensets and link them together to meet the desired load configuration. This process of scaling the single unit output is facilitated by Generac special switching and paralleling technology to provide a fully integrated system. The diesel MPS system is based on multiple gensets of 400, 500 or 600 kilowatts working together to provide output ranging from 800 to 3000 kW, additionally gas fueled MPS systems are available utilizing gensets of 150 to 200 kilowatts with a combined output of 300 to more than 1000 kW.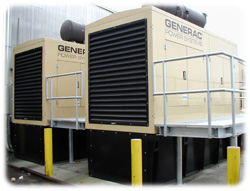 Generac Modular Power System (MPS)



QT Series Commercial Power Systems
The QT Series of standby generators are targeted primarly at medium sized commercial establishments and small businesses. With more than a dozen models these are a cost-effective, reliable, backup power, generator system that is quiet enough to fit easily into a suburban environment. These gensets range in output from 15 to 150 kilowatts and come in attractive sound attenuated enclosures. The QT Series operates on either natural gas or liquid propane (LP). Diesel is not an option, however; given its target market these customers may prefer to avoid diesel fuel spillage, spoilage & odor, and natural gas is generally highly available in this environment.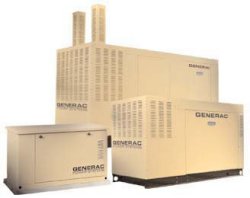 Generac QT Commercial Generators



Residential / Light Commercial Power Systems
The residential / light commercial line of standby generators is suited for use by homeowners and small businesses that need dependable backup power in emergency situations. These gensets range in output from 7 to 40 kilowatts and are available in either air-cooled or liquid-cooled models. The air-cooled models are available in 7, 12 and 15 kilowatts, and the liquid-cooled models are available in 15, 20, 25, 30 and 40 kW outputs. All of the Generac Residential / light commercial power systems come from the factory configured to run on natural gas but can be easily be reconfigured for liquid propane (LP gas) operation. These gensets work with a Generac manufactured automatic transfer switch that safely transfers power within seconds of losing the utility power. These units are capable of supplying electrical power to all pre-selected lights, appliances and equipment, and in some cases the entire home or business.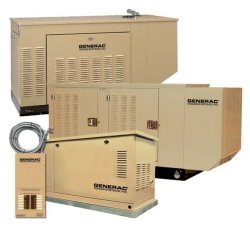 Generac Light Commercial / Residential Power Systems


Company Information
Generac Power Systems is a privately held company with headquarters in Waukesha, Wisconsin . Along with its corporate headquarters, the company operates an additional 3 facilities in the state of Wisconsin with a combined manufacturing floor space of more than 1 million square feet. Generac Power Systems has been in operation for more than 45 years, designing and manufacturing top quality, long life power generation equipment and is one of the leading companies in the power generation industry. Generac diesel and gas-fuel generator sets range from 3 to 6000 kilowatts and they design and manufacture their our own line of transfer switches, switchgear, and control & monitoring software. Generac sources components from all over the globe and combines these with its own engineering and manufacturing expertise to build and customize products to customer requirements. Generac utilizes proven engine designs and modifies them for custom applications. All major product components - stators, rotors, controls, transfer switches, base tanks, and enclosures - are designed and built in Generac facilities.