Onan Generators





Onan is a wholy owned subsidary brand of Cummins Power Generation, a world leader in the design and manufacture of generators, power systems, gasoline engines, and custom power for market applications. The Cummins / Onan commercial power systems and Onan brand consumer products are available around the world through the Cummins sales, distrobution, and service network. Cummins Power Generation, a subsidiary of Cummins Inc. manufactures and markets consumer and commercial power generation products including Onan generators

The Onan brand contains the following product sets:
- Onan Home Standby Generators: generator sets from 12 to 20 kW
- Portable Generator Sets: gas generator sets from 2000 to 6000 watts .
- Marine Generator Sets: diesel fueled generator sets from 5 to 95 kW.
- Commercial Vehicle Generator Sets: gas and diesel generator sets and PTO (Power Take Off) generators from 2,300 to 40,000 watts,


Home Standby Generators
Cummins Onan offers a complete line of permanently installed residential emergency standby systems including 12 kW, 15 kW, 20 kW and larger generator sets with transfer switches. When power is interrupted, the Cummins Onan residential home backup system will automatically switch power to keep a home running smoothly, fueled by either natural gas (LP) or propane gas.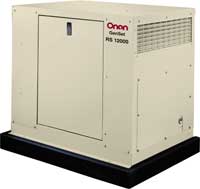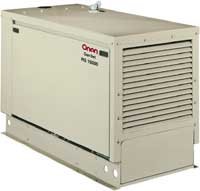 Onan home standby generators



Portable Generators
Onan Pro GenSet series represent the Onan portable generatro line, these range in load ratings from 2000 to 5000 watts at 50 Hz and 2500 to 6000 watts at 60 Hz. Onan Pro Series GenSets are designed for use as emergency or standby power in remote locations, and they're ideal for construction, utility and maintenance crews; fire and rescue squads; and rental fleets. The Onan Pro GenSet is also a good choice for do-it-yourselfers looking for a tough, reliable power source.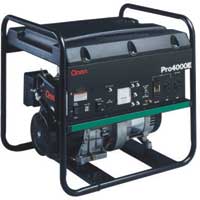 RV Generators
Onan supplies the most popular line of generators specifically designed for the RV industry. They offer an impressive line of very quiet gasoline, LP, and diesel-powered RV generators. With over 1.2 million owners of Onan RV generators, that means that 8 out of 10 RVs with generators are carring an Onan! Onan RV uses extensive lab and road testing to ensure long-lasting performance, and their units are backed by one of the industry's best warranties.
Onan RV generators are offered as four distinct product sets:

Camp Power
The first installed generator designed specifically for smaller RVs. 2500 and 3600 watt LP or 2800 and 4000 watt gasoline models are ideal for conventional travel trailers, truck campers and folding camping trailers.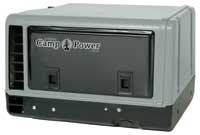 Onan "Camp Power" RV generators


Marquis Platinum/Marquis Gold
The quietest RV generators in the 5000 to 7000 watt class. Gasoline and liquid or vapor LP models, some with electronic fuel injection.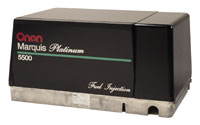 Onan Marquis Platinum/Marquis Gold RV generators


MicroLite/MicroQuiet
The quietest 2500 to 4000 watt RV generators on the market--even quieter than national park standards. Compact, lightweight LP and gasoline models.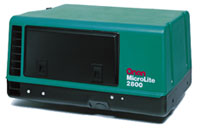 Onan "MicroLite/MicroQuiet" RV generators


Quiet Diesel
So quiet and smooth, you won't believe they're diesels! Models ranging from 5500 to 12500 watts can run two or three air conditioners with power to spare.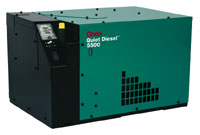 Onan "Quiet Diesel" RV generator



Marine Generators
More than 60 years of marine experience, supplying generators to the U.S. Coast Guard, Navy, recreational boaters, and the world's finest yacht builders, is built into every Onan marine generator.

e-Series -- Digital Power by Onan
The most technologically advanced marine gensets available offer you smart power with extensive diagnostic capacity. The e-Series is available in both diesel (e-QD) and gasoline (e-QG).

Onan's digital technology is provided by an electronic control that constantly monitors the genset's operation and alerts the user to potential problems. Detailed information is available at the touch of a button, taking out the guesswork and providing built-in confidence.

Digital gensets offer three network options for viewing genset status information. In addition to Onan's own networked e-Series Digital Display, the Onan e-Series network interface broadcasts in the SmartCraft Networked protocol, or, in SAE J1939 CAN protocol, which is well suited for boats which already are using a J1939 network for digital or computer display.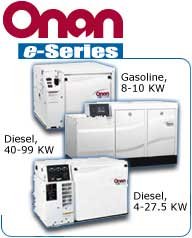 Onan e-Series Marine generators


MDK Series
The best traditional marine generator in the market, loaded with benefits. 5.5 kW to 27.5 kW. The MDK Series offers many standard features and is loaded with benefits that make these generators the best value in the marine generator market. Quiet, smooth, and clean, these units have average sound levels of 67 dB(A) at one meter, along with low vibration and smoke

Designed for compliance with U.S. Coast Guard regulations and ABYC voluntary standards. Complemented by a full line of accessories, making it easy to customize to suit your application. Easy to install, operate and maintain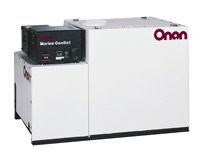 Onan Marine MDK Series generators


Admiral Series
Tough, dependable diesel power for business or pleasure--Onan's true workhorse. 30 to 95 kW. Rugged and dependable, the Admiral 35 kW 60 Hz or 30 kW 50 Hz model comes standard with 10% overload capability. Pleasure or commercial applications Complies with U.S. Coast Guard regulations and ABYC voluntary standards DNV Type Approval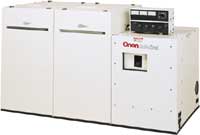 Onan Marine Admiral Series generators


Platinum Series -- Beyond the Ordinary
A new standard in the megayacht auxiliary diesel power market. 45 kW to 70 kW. These technologically advanced diesel generators are positioned to meet future emissions regulations today. Platinum gensets offer the lowest emissions in the industry, without the need of expensive catalysts or complicated exhaust systems--making them the greenest, most sociable generators available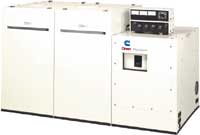 Onan Marine Platinum Series generators


Company Information
Cummins Power Generation is a world leader in the design and manufacture of consumer and commercial power generation products.
Cummins Power Generation brand products include power systems and related accessories, components and services including the pre-integrated PowerCommand system, plus diesel and gas generator sets, transfer switches, and switchgear used in commercial facilities for emergency backup and prime power. Onan branded products are used in recreational vehicle, marine, commercial mobile, home standby and portable applications. Cummins Power Rent is a global supplier of trailerized rental generator sets.

Below is a brief outline of the Onan corporate history from their beginning through their purchase by Cummins Engine Co.
1920 - Onan begins business operations.
1927 - Onan builts a ten light generator.
1930 - Onan builds it's first gasoline engine.
1932 - The first Onan Gen Sets are produced.
Early 1940's - During World War II, Onan supplied 85% of the US military generators.
1946 - The Onan Corporation was formed.
60's - Studebaker bought Onan and introduced the J series air-cooled engine.
1975 - Hawker Siddeley bought 33% of Onan.
1979 - McGraw Edison bought 67% of Onan from Studebaker.
1985 - Onan achieves 92.3% of the Recreational Vehicle market.
1986 - 1992 - Cummins Engine Co acquires the Onan company.
1997 - Onan closes its Huntsville plant and moves tooling to Linamar Corp of Canada.
1997 - Linamar producing gasoline engines for Onan in a new plant in Guelph, Ontario.