Portable Generators
Troy-Bilt offers a line of quality home portable generators as an adjunct of their impressive home gardening line of outdoor equipment. Troy-bilt offers four generator models that include a light weight portable (camping type) model at 900 watts capacity, two models in the middle of the protable output range producing 3500 and 5500 watts of power, and a high output model rated at 7550 watts. The larger units come with sturdy steel frames, wheels, and handles for easy movement and storage.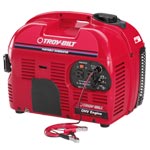 Troy-Bilt 900 watt portable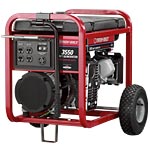 Troy-Bilt 3550 watt portable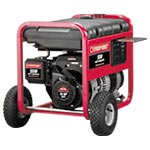 Troy-Bilt 5500 watt portable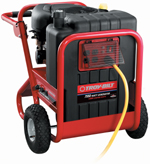 Troy-Bilt 7550 watt portable



Company Information
Troy-Bilt introduced the first American-made rear tine rototiller in 1937. These machines were known for their quality and durability and prized by their owners as a premium quality garden tool. Since that time the company has been working with gardening experts and lawn care enthusiasts to design, build and continually improve each of their products. They currently offer top-qualilty tillers, mowers, tractors and yard tools that demanding homeowner's require.

Today, Troy-Bilt is a wholely owned brand company of the MTD company which is one of the largest outdoor equipment manufacturers in the world. In 2001 MTD bought the Troy-Bilt tiller and mower business from Garden Way, which had filed for bankruptcy The MTD company offers quality brands such as: Bolens, Cub Cadet, Yardman, McCulloch, and Troy-Bilt.