Porter Cable Generators





From it's humble beginning in 1906 Porter-Cable has gone on to become one of the most trusted names in power tools today. The company designs, manufactures and distributes electric and cordless power tools, pneumatic tools and compressors, pressure washers, generators and related accessories for the professional woodworking, commercial/residential construction, plumbing, and electrical construction markets.


Portable Generators - Home and Contractor Jobsite
The Porter Cable generators line is focused entirely on portable generators designed for the homeowner or contractor. These units are designed to provide partial electric power to a home in case of emergency or for jobsite power for use by contractors. These units are all gasoline powered and range in rated operating output from 3.25 kW to 10 kW. Porter Cable currently has 13 models of portable generators to choose from in various configurations, sizes, and power output ratings.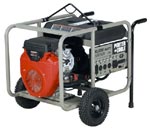 10 kW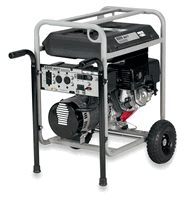 6.5 kW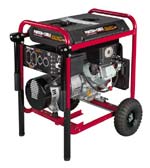 7.5 kW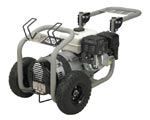 3.5 kW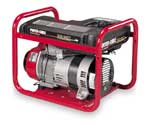 3.0 kW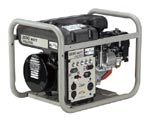 3.5 kW

Company Information
Porter-Cable manufactures a vast majority of its products out of it's Jackson, TN. headquarters; however, the company operates a second manufacturing facility in Steinheim, Germany, where its products are produced and sold throughout Europe under the FLEX brand name.

Like many long-established companies, Porter-Cable typifies the American dream that came true for three men who wanted to make hard work easier. In 1906, R. E. Porter, G. G. Porter and F. E. Cable agreed to open a jobbing machine and tool shop out of their garage in Syracuse, New York. Beginning with an investment of $2,300, they manufactured an unusual array of items such as automobile tire pumps, type-forming machinery for L.C. Smith, illuminating gas lighters, machine tools, and an old-fashioned pencil sharpener.

In 1960, Porter-Cable was sold to Rockwell International. As a result of the acquisition, the venerable name "Porter-Cable" was changed to Rockwell. For several years Rockwell used dual branding to ensure customers knew they were buying the same Porter-Cable quality power tools that they were accustomed to.

In 1981 Pentair, Inc. acquired the Porter-Cable product line and brought back the original brand name of "Porter Cable". Pentair focused the rebirth on the two key ingredients - quality and innovation - that had always been associated with the name.

In January of 2000, Porter-Cable consolidated with sister company Delta Machinery. and consolidated their headquarters and distribution center to Jackson,TN. Other manufacturing and operational consolidations yielded efficiencies and cost savings that were passed on to end-users via lower price points.

Pentair, Inc. acquired DeVillbiss Air Power Company, in late 2000 expanding their growing product lines. In 2002 Porter-Cable had introduced it's compressors, generators, pressure washers, and air tools to complement its line of power tools and air nailers. With this addition Porter-Cable now had the broadest product line in the industry.

In October 2004 Black & Decker purchased Porter-Cable from Pentair. Porter Cable is headquartered in Jackson, TN and has an estimated annual sales of close to $280 million dollars. Black & Decker is the largest manufacturer / seller of power tools and accessories in the US with estimated sales of approximately $5.4 billion annually and operates out of its Towson, MD headquarters. Black & Decker's primary brands are DEWALT and Black & Decker, but they also include plumbing products (Price Pfister), home security hardware (Kwikset), and cleaning and lighting products (Dustbuster vacuum cleaners, SnakeLight flashlights). Black & Decker markets it products thru hardware stores, specialty tool outlets, home improvement warehouses and its own chain of tool sales and repair stores, their largest customers are Home Depot and Lowe's, which account for about 30% of total sales.